Lawn Care Services Lockport, IL
As a local lawn care company servicing Lockport, Illinois and surrounding towns we take pride in providing quality lawn care services at an affordable price for the lawn you'll love without the work and worry!
Harvest Your Lawn's Potential with one of our customized lawn care packages and start enjoying the lawn you deserve. We have been maintaining and servicing lawns and landscapes in the area for many years and are interested in helping you, whether it is for lawn maintenance, mowing, fertilizer, weed control, clean ups, or lawn renovation like core aeration, dethatching, slit seeding, top dressing, and overseeding.

A full lawn service company in Lockport, Illinois
We are not a just lawn mowing company in Lockport, IL, We are a complete turf management company  that specializes in lawn maintenance, lawn renovation, and lawn treatments. Let us inspect, diagnose and develop a lawn care program plan for your lawn that's tailored to your needs and your budget. We can create a custom prescription for your lawn in the Lockport, IL area that will better withstand disease and local Lockport harsh weather conditions.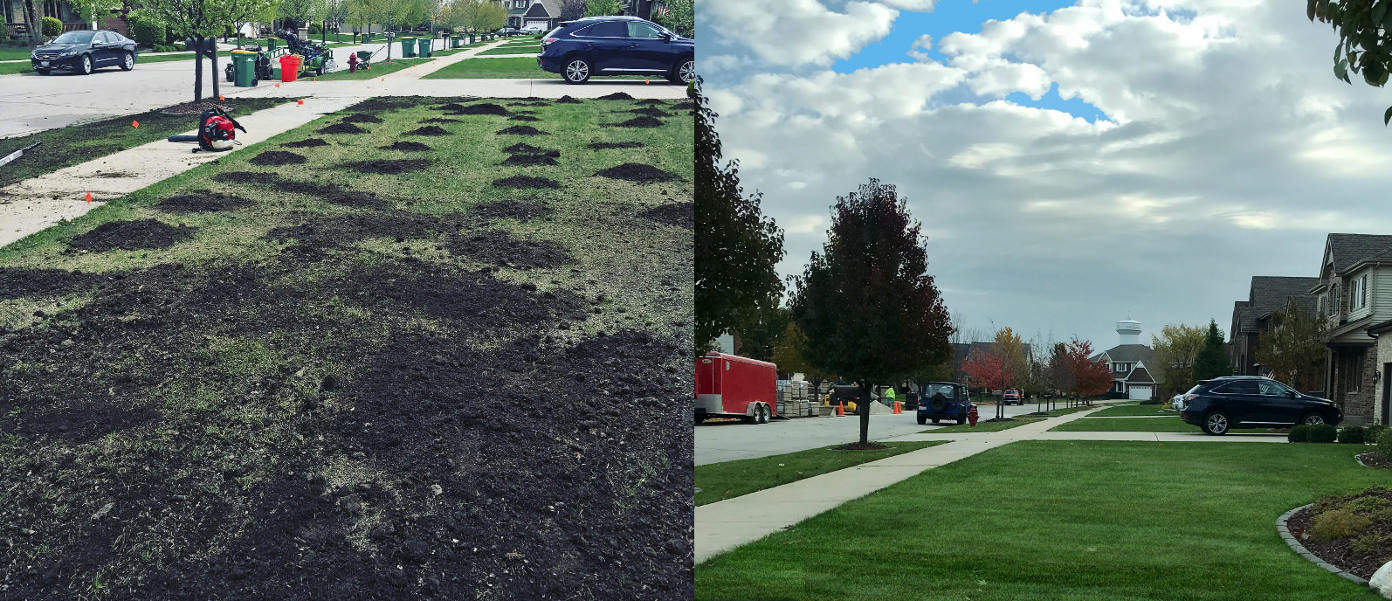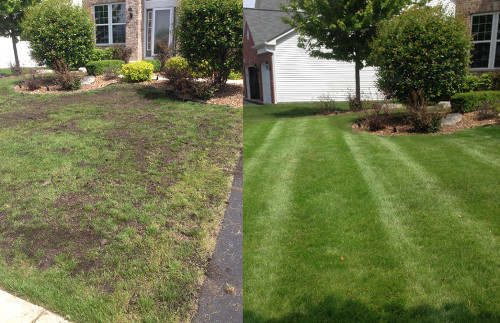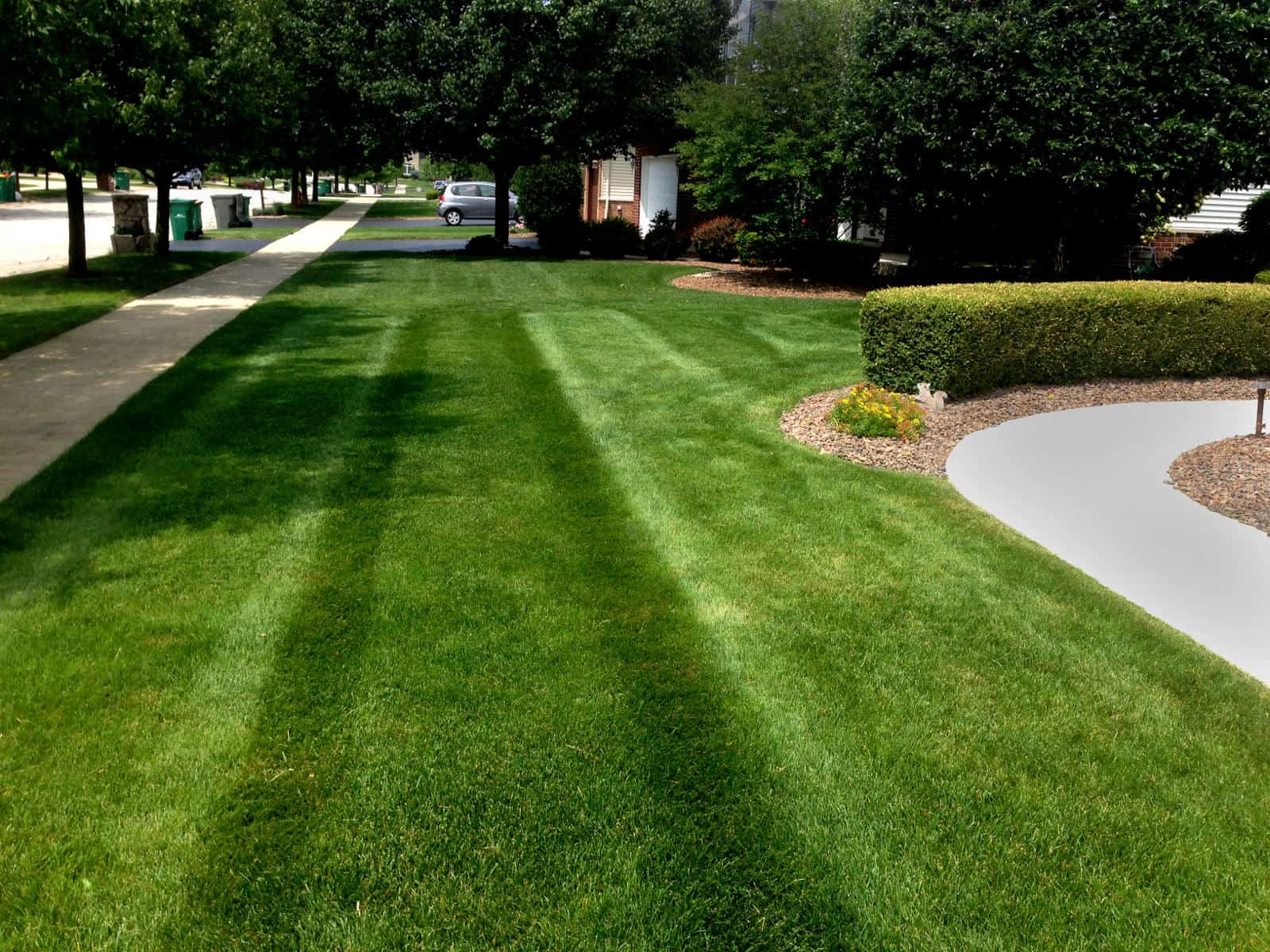 Mowing services in Lockport, IL
We don't only improve and fix lawns, but we also help you maintain it with our weekly, biweekly, or one time lawn cutting services. Using our lawn mowing services in Lockport, Illinois is a great way to make some extra time in a busy schedule. Let Home & Garden Lawn Care take care of all your grass cutting needs. We provide weekly, biweekly and one time mowing services with the option of skipping a couple times during the summer due to extreme high temperatures. Ordering services from us is as simple as a few clicks. Our safe, fast, and secure online booking system allows you schedule lawn services in the Lockport area and surrounding cities in just a couple minutes. No need to wait for quotes, easy, simple professional lawn care services made easy!
Fertilizer Treatments in Lockport, IL
We are a local Lockport lawn care company providing fertilizer applications, weed control, grub control, pre-emergents, winterizer and fungal disease treatments. We are a lawn maintenance company that understands local conditions like, lawn diseases, lawn pests, and weather patterns in the Lockport area. When you enroll in our professional lawn care services, we will provide a FREE, no obligation lawn analysis & diagnosis. We prescribe customized lawn care programs that promote a greener, denser, and a healthier lawn. We apply a combination of balanced granular fertilizers and weed control on each visit.  We alert you of any lawn problems before they become severe and inform you of possible solutions.
Lawn Renovation
There are plenty of ways for a lawn to decline. If your lawn is beyond the help of regular maintenance, A Lawn Renovation Package is your solution! If you have recently built a new home in Lockport, inherited a lawn in bad shape, or just need a lawn makeover, then rejuvenating your lawn is the best option for you. Lawn renovation in Lockport involves aeration and / or dethatching, spreading new seed, top dresssing with compost, or fertilizing to improve turf color, density, and balancing soil pH.
We have a proven track record of achieving dramatic results in relatively short periods of time. We can improve the overall health of your lawn to give you the fresh start you're looking for. With our professional-commercial equipment, we rejuvenate your lawn to introduce newer seed, organic materials, and nutrients that your lawn needs to stay green and healthy. With proper watering, Home and Garden can deliver a lush, full lawn in just a few short weeks.
Renovations are done during spring and fall for best results. Please contact us for a detailed free consultation if you are interested in rejuvenating your lawn in the Lockport, IL area.
Lawn Aeration and Overseeding
Core aeration is done on turf areas as a means of reducing turf compaction, reducing thatch buildup, improving water, air, and fertilizer uptake, encouraging deeper roots, and creating an environment where grass seed can have direct contact with the soil. Research shows that the benefits of core aeration are so beneficial that it should be performed at least once a year.
What is Core Aeration?
Core Aeration is the process of removing thousands of small soil plugs in the turf. These holes allow fertilizer, water and air to reach the root zone quicker, improving root development and resulting in new grass growth if doing overseeding.
Benefits of core aeration
Reduces soil compaction
Improves fertilizer uptake
Helps develop stronger turf roots
Reduces water runoff
Improves soil fertility
Increases thatch breakdown