Homer Glen Lawn Care Service
We provide season-long lawn and landscape maintenance for both commercial and residential clients focused in the Homer Glen, Illinois and surrounding towns. From grass mowing and landscape maintenance services, to complete lawn renovation services like aeration, dethatching, overseeding, and top dressing. Home & Garden Lawn Care professional approach to lawn care starts with our onsite inspection and diagnostic evaluation of each site in the Homer Glen, IL area. Our complete soil test service allow us to analyze and understand the current conditions, ingredients, deficiencies and pH levels of your soil.
Homer Glen Lawn Aeration Service
By undertsanding the soil conditions and turf types in the Homer Glen, IL area, we are able to tailored specific services we know your lawn will benefit the most. Lawn aeration is a service that will promote better drainage, improve water and fertilizer uptake, and help decreasing soil compactation. Core aeration is offered during spring and fall when temperatures are warm during the day – cooler at night.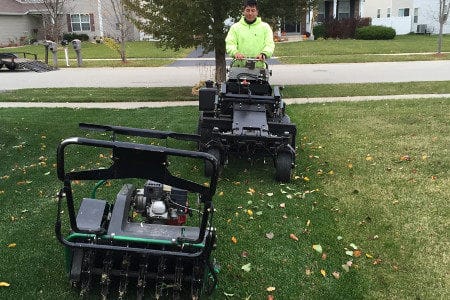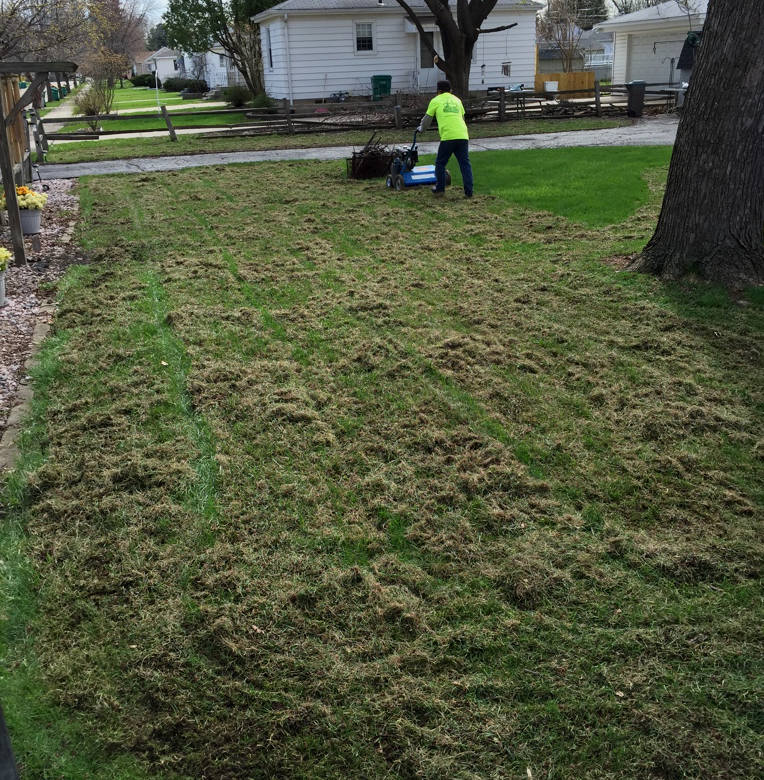 Homer Glen Lawn Dethatching / Power Raking
Dethatching is the mechanically process of removing the matted dead layer of grass blades that sits under your lawn using a power rake machine. This process can also be accomplished using a normal lawn rake but it is not as affective as a commercial power raking machine. Power rake also known as de-thatch or dethatching is labor intensive and few lawn companies in the Homer Glen area provide this service.
By dethatching, you stop that dense layer from choking out your lawn, giving your grass the room it needs to grow, and allowing fertilizer, water, air, and nutrients to better reach the soil and the root system.
Our lawn dethatching service in Homer Glen, IL includes actual power raking the lawn, the cleanup of dead grass, and vacuuming all the dead grass up and taking it away. We vacuum all the dead grass up and take it away.