Lawn Service in Lemont, IL
Home & Garden Lawn Care in Lemont, IL is a premier commercial and residential lawn and landscape maintenance and management company servicing Lockport, Lemont, Woodridge, Burr Ridge, and Bolingbrook. We fully understand the importance of quality professional services that deliver results. Home and Garden Lawn Care Services specializes in all aspects of lawn maintenance. We service numerous residential and commercial clients in the Lemont area and beyond, with each client receiving the personal attention they deserve. Our lawn maintenance services are 100% guarantee. We have developed customized lawn care techniques and programs that are guarantee to deliver the green, thick lawn you deserve. Some services we offer in the Lemont area are: lawn renovation, core aeration, power raking, seeding, slice, top dressing, weed control, fertilizer, grub control, fungicides. Please visit our lawn care projects to see some of the work we have done in the Lemont area and surrounding towns.

Full lawn maintenance  company in Lemont, Illinois
Years of experience as a lawn maintenance company in the Lemont, IL area has provided turf expert knowledge not only in maintenance but management also. We are able to diagnose, repair, maintain, and improve your lawn, garden, and outdoor living spaces. We use a simple philosophy – Provide the lawn with the nutrients it needs, with the right amounts, at the perfect time. If you are looking for lawn maintenance company to aerate, dethatch, power rake, top dress or fertilize your lawn, please give us the opportunity to help you. You have nothing to lose as our services are 100% satisfaction guaranteed.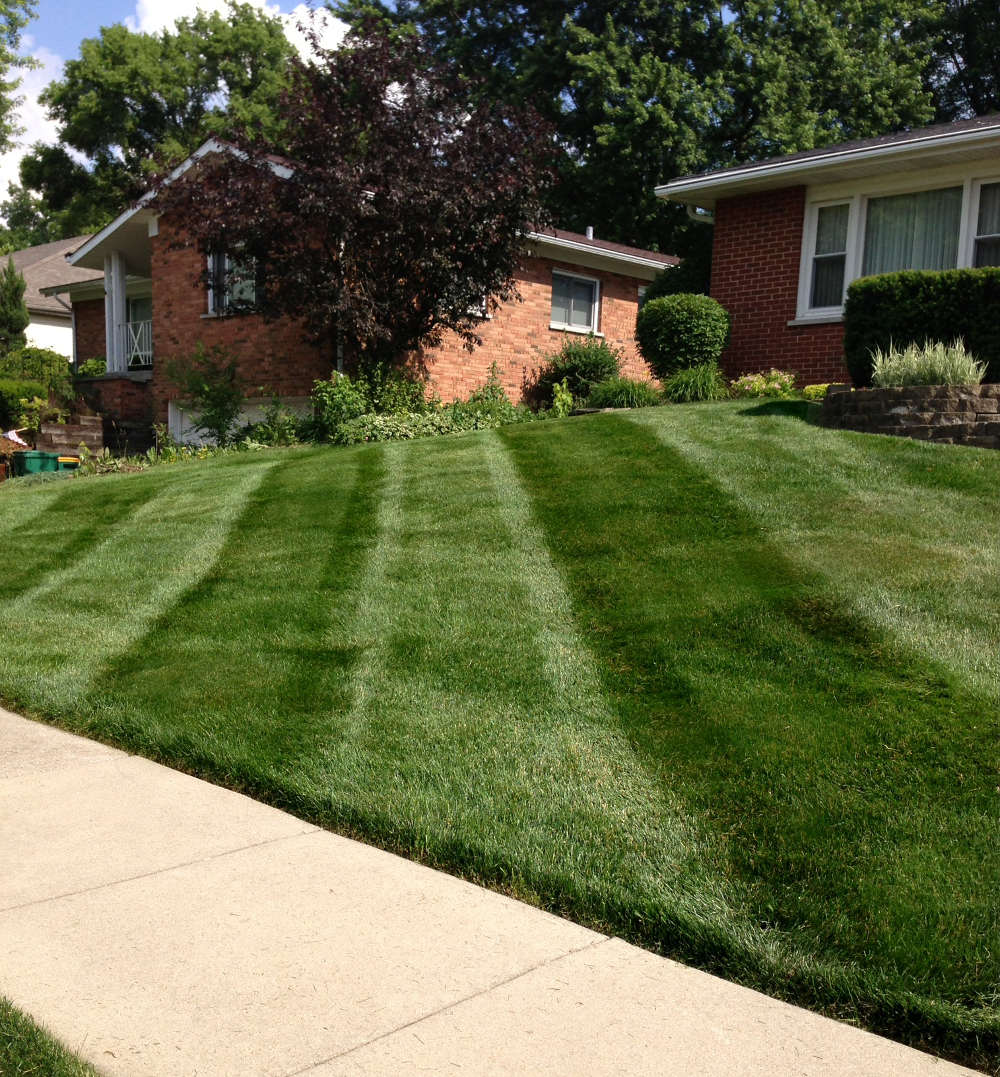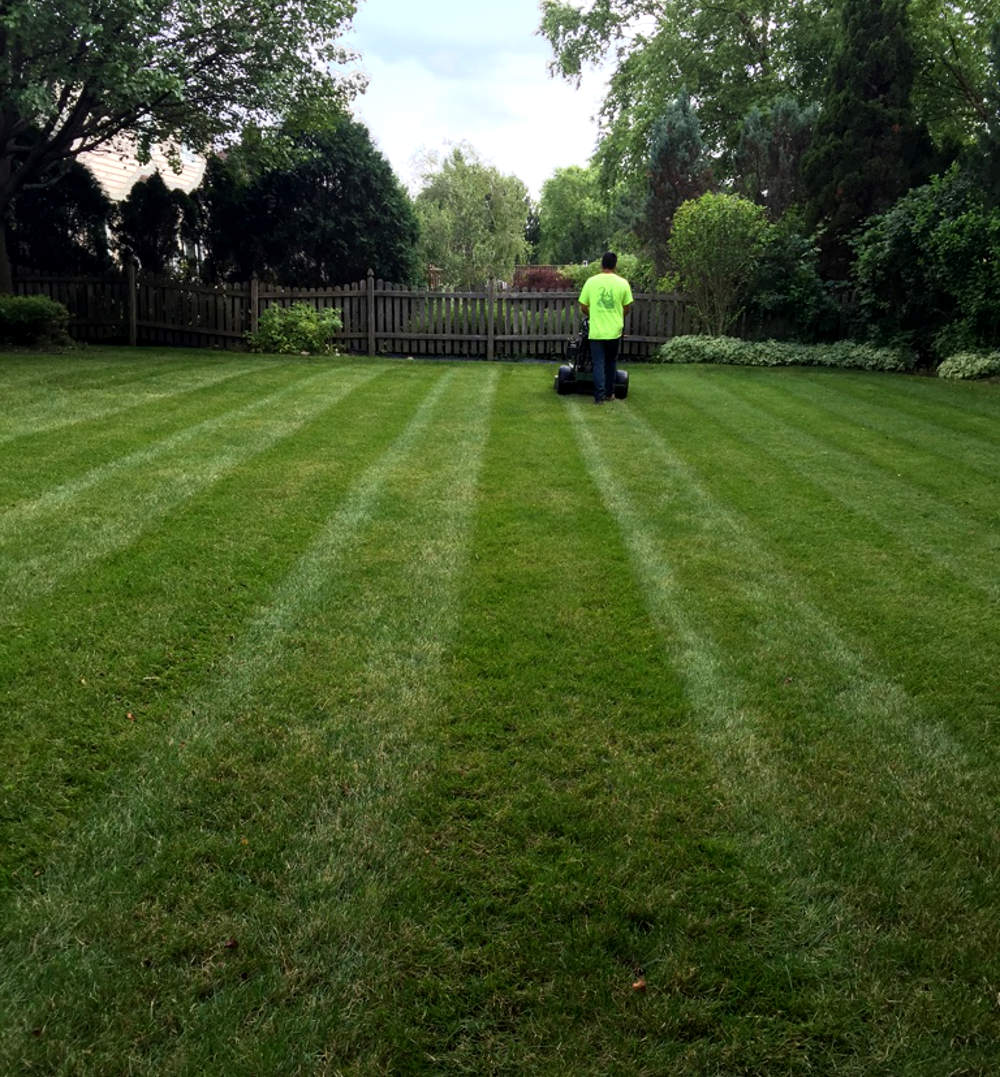 Lawn Renovation in Lemont, IL
Lawn renovation is offered in the Lemont area during spring and fall to help in the recovery and improvement of turf from damage caused by fungal diseases, pests and extreme weather conditions. By renovating your lawn, you improve soil fertility, water and fertilizer can better get to the root system, soil compaction is decreased, and the overall wellness of your lawn will significantly improve. It is often underestimated how much lawn renovation such as aeration, power raking, lime applications, over-seeding, slit seeding procedures will improve your lawn and should be taken into consideration as part of your annual lawn care maintenance program.
Lawn Aeration Service
Lemont cold winters and hot summers put turf under a lot of stress which causes lawn damage. To resolve this we have implemented a lawn renovation program that includes Core aeration and overseeding. We offer this services in Lemont during spring and fall. Additional lawn rejuvenation services like dethatching / power raking, slit seeding, top dressing with compost and lime applications may be needed for severely damaged lawns in the Lemont area.
Aerating helps relieve soil compaction caused by heavy foot traffic and provides an ideal seed bed for over seeding, relievies soil compaction, increases biological activity, assists nutrient efficiency, improves soil drainage, allows water, and fertilizer into the root zone. Aeration can be carried out at anytime during spring and autumn, when temperatures are cooler.
Benefits of core aeration
Reduces soil compaction
Improves fertilizer uptake
Helps develop stronger turf roots
Reduces water runoff
Improves soil fertility
Increases thatch breakdown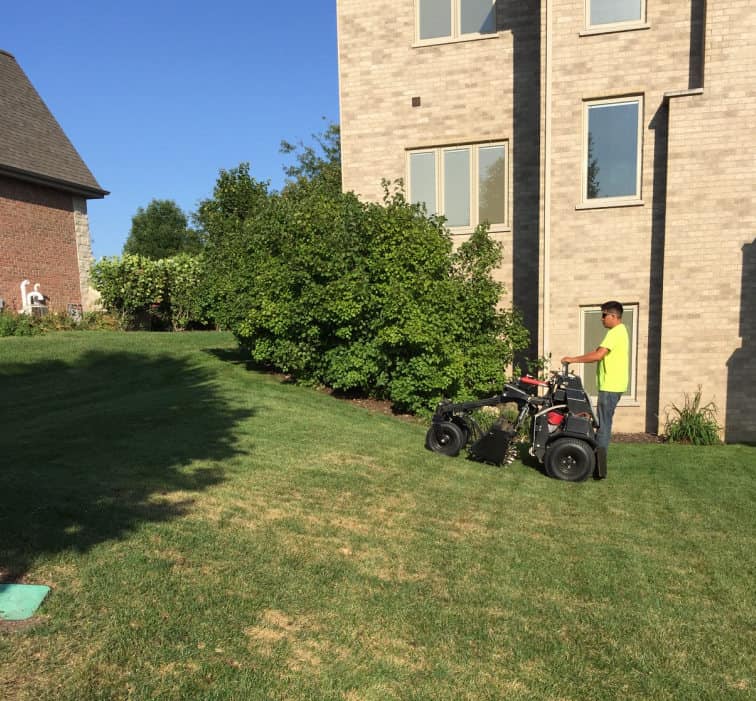 Affordable Lawn Maintenance in Lemont, IL
By hiring us as your lawn care company in Lemont, IL not only you get quality profesisonal services but also the best price. We strive to provide the best lawn care services in the Lemont area at the most affordable price possible by purchasing high quality products in bulk and using only commercial professional equipment that enable us to complete our projects in a timely manner.
Another way for us to offer affordable lawn services in Lemont is achieved by making our routes fuel efficient, which reduces fuel cost and man hour cost, this enable us to be more productive which saves us money and allow us to pass this savings to our lawn care customers and our employees. If you need lawn maintenance services in the Lemont area look no further, as a small local lawn care company we provide indivual customized lawn care programs that allow us to better maintain and improve your turf and landscaping outdoor spaces. Schedule lawn cutting services, lawn core aeration, lawn overseeding, power raking, fertilizer, weed control or landscape maintenance like shrub trimming, mulch, landscape spring and fall clean ups.