Lawn Service in Mokena, IL
We are a professional family owned lawn care company dedicated to provide quality lawn care services in Mokena, Illinois. We have many years of experience in the turf care, maintenance, and management industry with track record of providing excellent results when it comes to lawn care, turf improvement and disease control.
We will be happy to help you maintain your small, medium, or large lawn. No job is too big or too small. We offer a fully licensed and insured quality services and have excellent testimonials and referrals. We are locally owned and operated in the Mokena area.

lawn Maintenance in Mokena, Illinois
By working with Home & Garden Lawn Care of Mokena, IL you get a full lawn service company able to help you diagnose, repair, and improve the overall wellness of your turf. We offer lawn mowing, core aeration, dethatching, slit seeding, seed, sod, power rake, lime applications, soil testing,  fertilizer treatments, weed control, over-seeding, top dressing with compost, grub control, mulch, and landscape maintenance. Years of experience in lawn maintenance and turf management at your disposal with just a call away.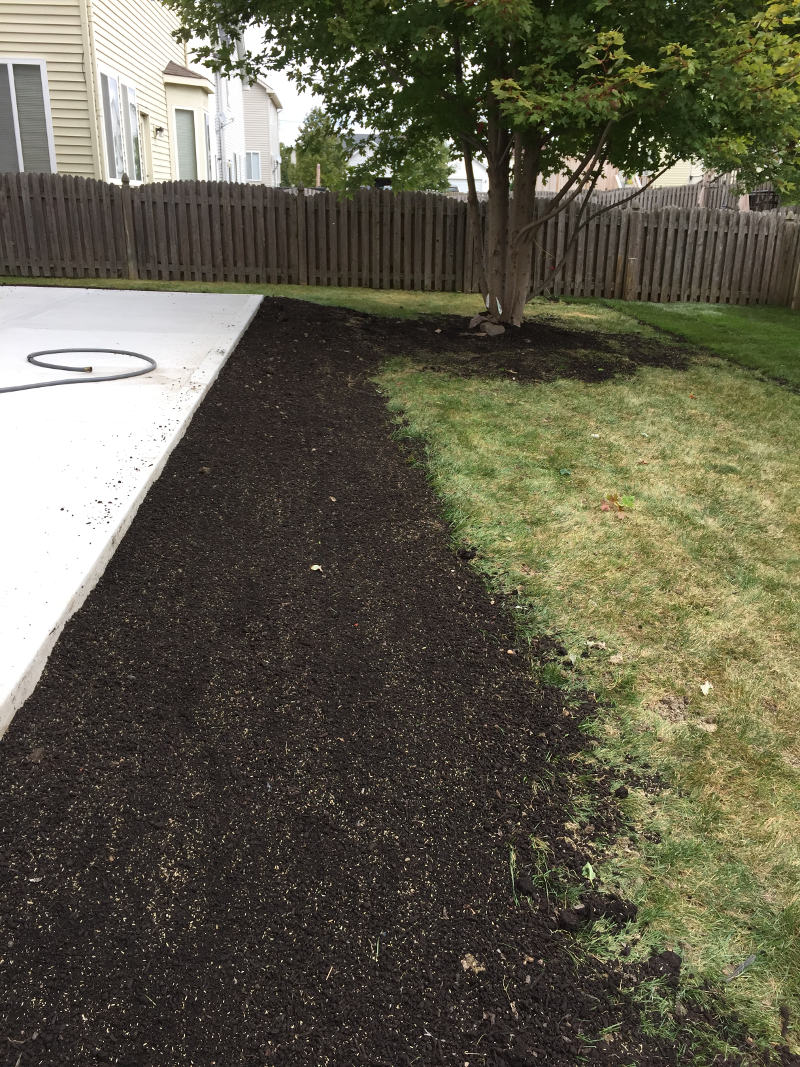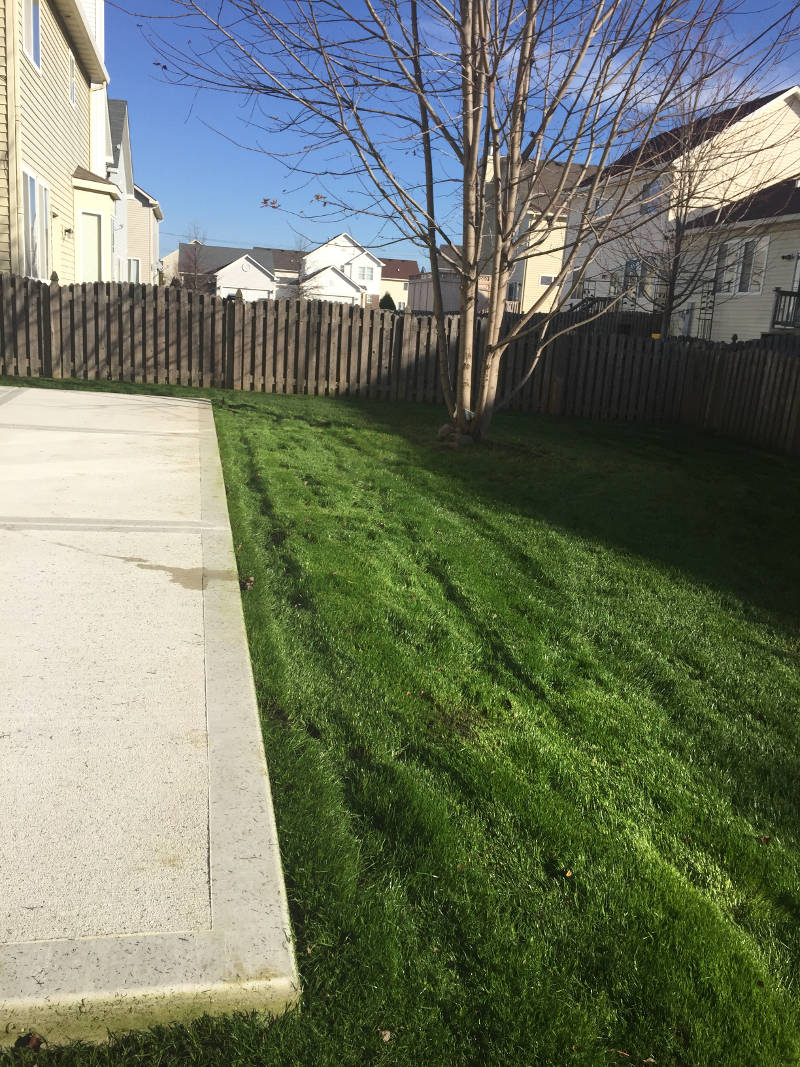 Core Aeration & Overseeding
We have implemented a core aeration service with overseeding to help our customer in Mokena, IL to keep their lawns green, dense, and healthy all season long. As lawns age or sustain heavy foot traffic from kids playing, sports activities, pets, and mower traffic, soil compaction can result. Soil compaction contributes to poor root growth in turf grass in Mokena lawns which keeps turf from reaching its full potential. Soil compaction is mainly caused by traffic from children, pets and mowers. Core aeration is performed by pulling thousands of small soil plugs mechanically with a core aerator machine which slowly break down over the course of just a couple weeks. Aeration allows air, water, and fertilizer deeper into the soil and improves seed germination rates when doing over-seeding immediately after aeration. For core aeration in Mokena, Illinois the best time to do it is spring and fall.
How do I know if I need to aerate my lawn?
For lawns in the Mokena area in general, Core aeration is recommended once a year to improve lawn quality. If your lawn is heavily used or with heavy foot traffic on a regular basis, twice a year is recommended, once in early spring and once in late fall. The best way to know if your lawn needs core aeration is to remove a square foot section of grass, if the root system extends to only the first 1 – 2 inches then your soil is compacted and needs core aeration. A compacted soil will cause the lawn to thin or look unthrifty.
Benefits of core aeration
Reduces soil compaction
Improves fertilizer uptake
Reduces thatch levels
Helps develop stronger turf roots
Reduces water runoff
Improves soil fertility
Increases thatch breakdown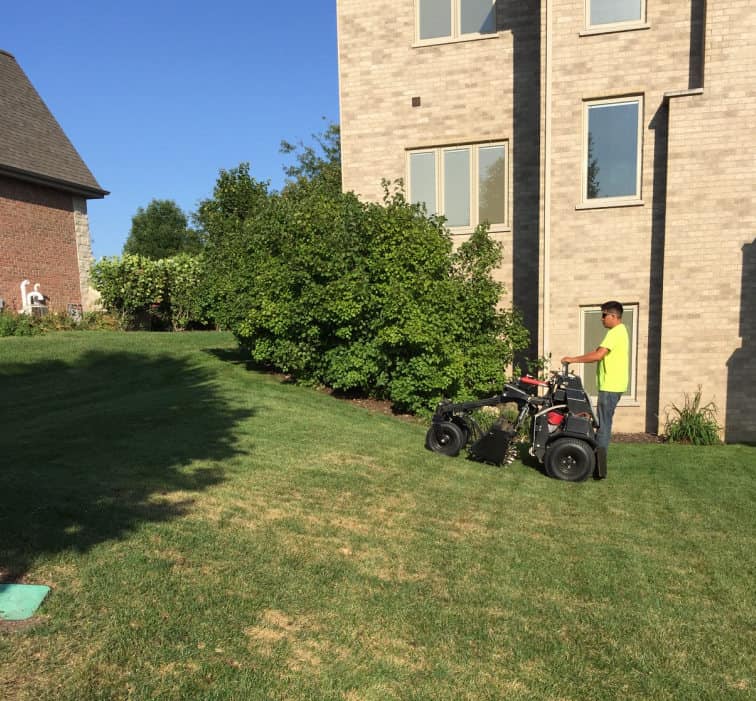 Lawn Dethatching / Power Raking Lawn Service
Power raking is the process of removing the excess thatch levels / dead grass in your lawn. We offer lawn dethatching service in Mokena, IL during spring and fall. Dethatching also known as power raking will improve the overall wellness of your lawn by removing the matted layer of dead grass sitting there doing nothing but blocking air, water, and nutrients which affects the lawn, also fungal diseases are most likely to happen on lawns with a thick layer of thatch.
Due to the long cold winters, drought and hot temperatures during the summer in the Mokena area and surrounding towns, lawn detaching is necessary on a regular schedule to keep your lawn looking green, healthy, and disease free. Thick layers of thatch negatively impact your grass causing bare spots, weeds, disease, and lawn discoloration. power rake, or a vertical mower (often called a dethatcher) can be used to prep the soil prior to planting to encourage seed-to-soil contact. Dethatching or aeration  is highly recommend when overseeding to improve seed to soil contact, simply spreading seed over the top of the lawn without any soil preparation usually does nothing more than feed birds and other wildlife.
The best Lawn Care Service in Mokena IL
We strive to excel in providing the best lawn care service possible in the Mokena area and surrounding towns. By providing full maintenance programs and fertilizer applications that will achieve a green, thick, and healthy lawn. Our approach to a new green lawn in Mokena starts by utilizing the best quality and safest products to provide the grass with the nutrients it needs while appliying products that are safe for you, your family and our employees. During the summer we apply organic fertilizers to reduce the use of pesticides.
Landscape Maintenace
Increase property value and improve the overall look of your outdoor living spaces by trimming bushes, shrubs, plants, and perennials as necessary in order to remove excess growth to maintain a neat appearance, and also by mulching your garden areas which helps reduce weeds, helps retain mositure longer (avoiding overuse of sprinkler system), and improves the landscape overall look.