Top Dressing
Top dressing your lawn with compost is the most organic natural way to improve both your lawn and soil. Top dressing is achieved by simply spreading 1/4 inch layer of compost, or quality soil on top on your lawn. Top-dressing  improves and balances soil ph which improves the lawn root system. Top dressing is labor intensive and most lawn and landscape companies do not offer this service despite the benefits it offers.
Benefits of top dressing
Improves soil structure and drainage
Reduces thatch buildup
Reduces the use of fertilizer
Increases seed germination when overseeding
Reduces lawn stress
Helps smoothing the surface of the lawn
Best time to top dress?
Ideally, if you are overseeding, spring and early fall are the best time to do top dressing since you'll want to give your grass time to grow through 3-4 more mowings before severe heat or cold. If you order top dressing with any other of our services, they will be performed same day, unless requested.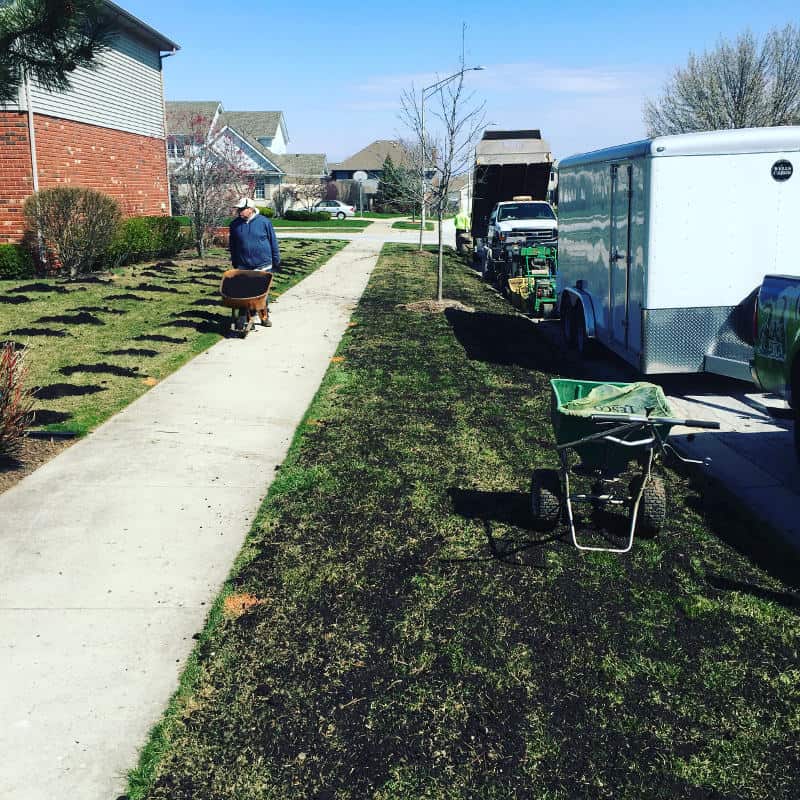 Top dressing details
We spread a 1/4 thick layer of high quality compost on top of your lawn. On average, a yard less than 8000 Sq ft will take about 4 cubic yards of compost, generally speaking about 1 cubic yard for every 2000 Sq ft of lawn. This service includes, compost delivery, installation (spreading) and clean up.
Compost quality
Our compost exceeds state requirements and surpasses quality standards by the USDA national organic program. Please check ormi.org to see the certificate. Compost is produced by the Waste Management Willow Ranch Romeoville location at 1371 N Joliet Rd, Romeoville, Illinois. where you as a consumer can also purchase it.

Our truck picking up some compost from the Romeoville location.