Lawn Service in Plainfield, IL
We are a local lawn care company working in the city of Plainfield, Illinois offering professional lawn care services at affordable rates. Our  lawn care custom approach guarantees a healthy, green, denser lawn by using the best quality products and best industry standards in turf management. We are a full lawn maintenance company in Plainfield, Illinois that offers lawn mowing, aeration, dethatching, overseeding, slit / slice seeding, top dressing, compost, weed control, fertilizer, grub control, fungicides, hedge trimming, mulch, edging, sod and seed.

A full lawn service company in Plainfield, Illinois
Lawn care covers more than just mowing and fertilizer, Our expert knowledge in turf management allow us to offer a full menu of lawn care services in the Plainfield area like top dressing, slit seeding, core aeration, dethatching which are labor intensive to fertilizer, weed control, overseeding, fungicides, mowing or grub control.  We offer complete lawn renovation packages to help you get the lawn you deserve at affordable rates.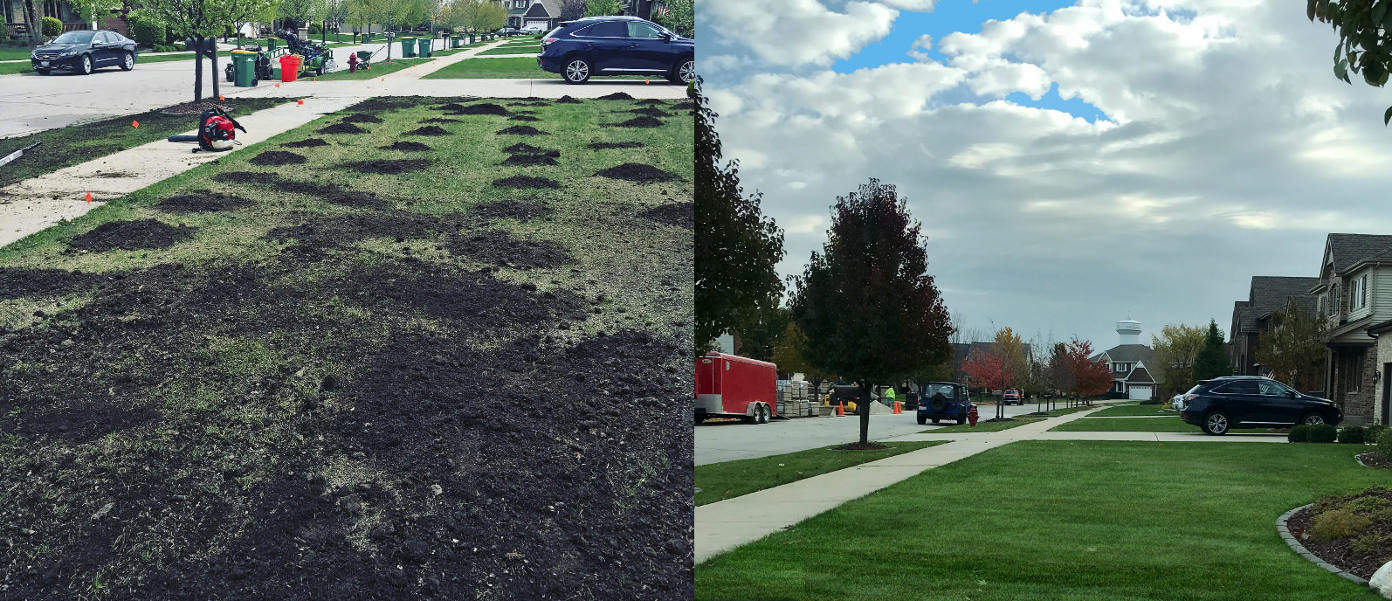 Lawn mowing services in Plainfield, IL
Do not have time to do it? Out for vacation? Want to enjoy the weekends? We've got you covered! Our lawn cutting services in  Plainfield, IL includes cutting the lawn, trimming, edging and blowing. Our super easy online schedule system allows you book lawn mowing services in just a few clicks, service is done most of the time next day. We carry insurance and are licensed to operate in the state of Illinois. Mowing is offered in a weekly, biweekly and one time basis.  Let us take care of your lawn cutting chores this season and take your weekends back.
Lawn Treatments in the Plainfield,IL
Become the envy of your neighborhood with a lush, thick lawn. Locally owned, we are practically your neighbors. We know the in and outs of best lawn care practices in the Plainfield area, weather patterns, more common pests and disease lawn problems. We can tailor a lawn treatment program that's just right for you.
Our lawn fertilizer program in Plainfield includes, season long fertilizer, liquid weed control, pre-emergent, grub control, fungal disease control, winterizer, aeration, and overseeding. Our lawn treatment programs includes applications of custom blended fertilizers featuring dry, granular, slow release products.
We believe in an environmentally sound approach in the control of weeds, pests, and disease. We don't believe in generic, all over lawn pesticide applications. Our program involves constantly modifying the treatment of your lawn based on what we see is happening.
Lawn Aeration Service
Core aeration enables your lawn to get the nutrients, air, and water it needs to stay green and healthy throughout the growing season. Core aeration works by removing cores of soil, allowing your lawn to better breathe and absorb the water, fertilizer and organic nutrients it needs to be healthy. Core aeration is the best method in preparing your lawn for over-seeding. Your grass can tire from years of wear, disease, harsh weather,  and pests. Overseeding your lawn becomes necessary to keep your lawn young and healthy.
Benefits of core aeration
Reduces soil compaction
Improves fertilizer uptake
Helps develop stronger turf roots
Reduces water runoff
Improves soil fertility
Increases thatch breakdown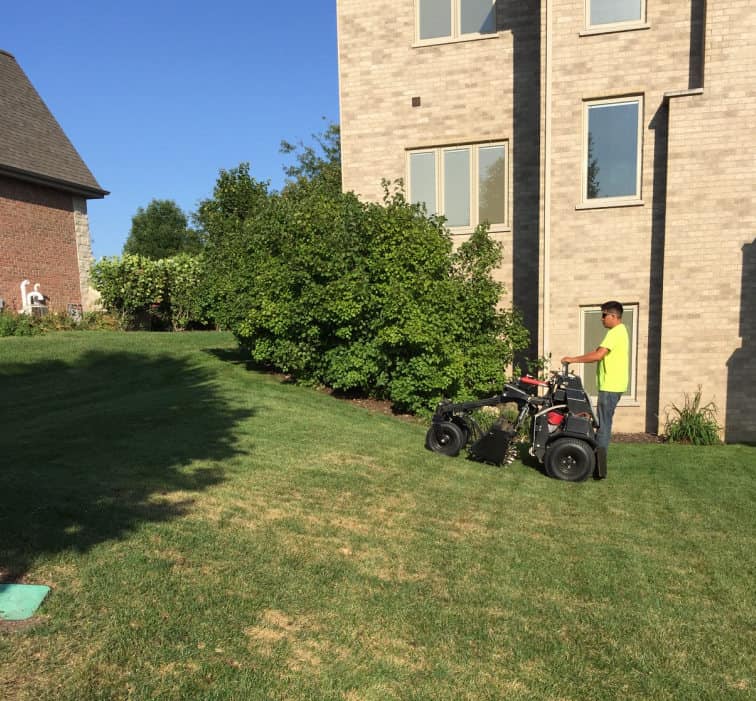 Affordable Lawn Maintenance in Plainfield, IL
We understand the importance of finding a reliable, professional lawn maintenance company that will provide high quality lawn care services in Plainfield, Illinois without breaking your bank. We strive and work hard to provide customers in Joliet – Plainfield area with the best lawn care services at the most affordable rates. We achieve this by only hiring enthusiastic, hard working people capable of going the extra mile in providing lawn and landscaping services in a safe, productive manner, using professional lawn mowing equipment that help us do the job with the best performance and quality. Your lawn is more than just a physical part of your property – it is a space for you and your family. As one of the best lawn care companies in the Plainfield area we pride ourselves in providing you with a relaxing and comfortable place to enjoy the outdoors, and a beautiful view right outside your front door.
Increased the value of your home by renovating and keeping your lawn green, thick and healthy with one of our organic lawn care services. Topdressing is the process of adding a thin layer of compost / soil over the surface of turf to improve soil conditions which directly improves the overall health of your grass.Topdressing offers multiple benefits for turf like: smoothing the surface of your lawn, reducing thatch buildup, and improves soil moisture retention.
The Best Lawn Care
The best lawn care services are delivered using high quality products and materials that will provide your turf with the right nutrients, at the right time. We are able to deliver on our promise of a healthy lawn made easy with the use of highly trained employees, professional commercial use of lawn maintenance equipment, and a commitment to a more healthy environment we all share.