Burr Ridge, IL Lawn Service
Sanchez Lawn and Landscape have been providing residential and commercial clients in Burr Ridge with top-quality lawn care, landscaping, and snow services for more than 10 years.
We are proud to offer a full range of services for our clients in the Burr Ridge area, including lawn cutting, flower bed maintenance, trimming, edging, mulching, spring cleanups, fall cleanups, core aeration, dethatching, top dressing, fertilizer, dirt, and decorative stone.
Burr Ridge Lawn Mowing Service
Keep your lawn green, thick, and healthier by mowing it regularly. Sanchez lawn and landscaping in Burr Ridge offers weekly lawn cutting service at affordable rates. Our professional mowing service is provided on a weekly basis during the growing season. The service includes cutting the lawn, trimming and edging with a string trimmer, and blowing.
Our Burr Ridge mowing service is affordable, reliable, and professional. We mow your lawn on the same day every week. Our mower blades are sharpened daily and our mowing equipment is maintained regularly.
Our company is fully licensed and insured to operate in the state of Illinois for your protection – Do not settle for less.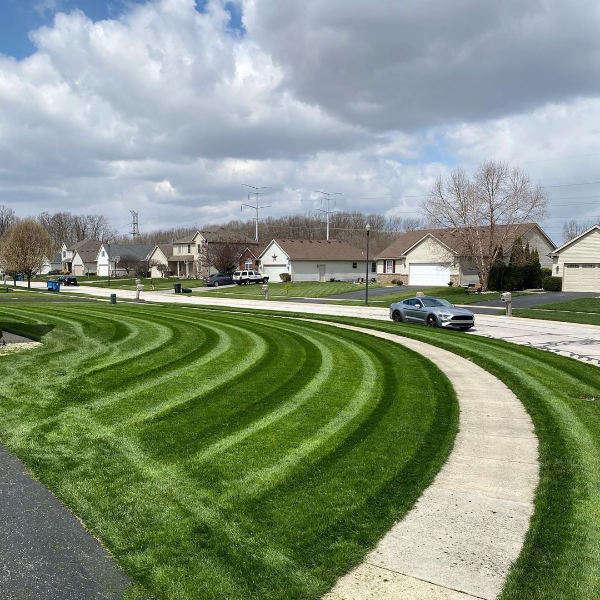 Burr Ridge Mulching Service
Improve water retention, minimize weeds, reduce water consumption, and improve the aesthetics of your flower beds and tree rings by installing a top-quality mulch product that will last longer from a Burr Ridge Landscaping company with hundreds of happy customers.
Why use Sanchez Landscaping for mulch installation?
Our mulch is of high quality, and from previous customer reviews, it is weed-free with a beautiful color that lasts longer than our competitors.
What type of mulch colors do you offer in Burr Ridge, IL?
We offer a variety of colors including red, brown, black, hardwood, gold, cedar, cypress, gold, and pine bark. Please give us a call or contact us today to check mulch type and color availability.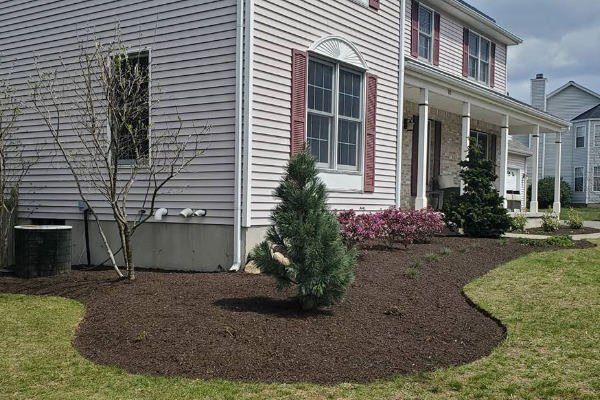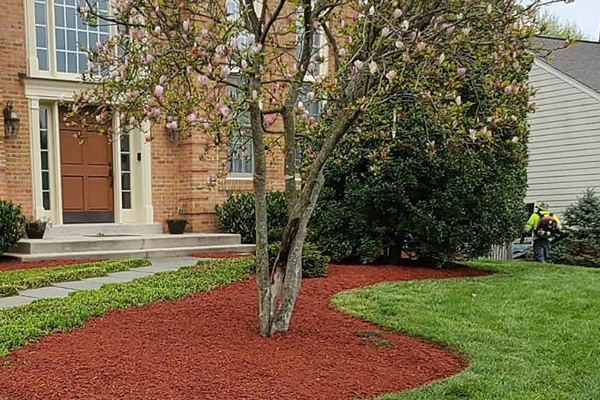 Spring and Fall Clean Ups
Cleaning up your lawn, landscape, and garden areas involves hard work and trying to find time to do it yourself can be time-consuming. Our landscape crews can handle that chore for you and free up your schedule. We cater to residential and commercial clients in the Burr Ridge and surrounding towns like Hinsdale, Willowbrook, Darien, and Woodridge.
What's included in a spring clean up
Your spring cleaning service may include the following lawn care services depending on your request.
Picking up leaves, branches, and lawn debris
Removal and disposal of the resulting debris
Cutting the lawn
Flower bed maintenance and cultivation
Flower bed re-edging
Mulching, pruning, and trimming
Core aeration, overseeding, and fertilizer
What's included in a fall clean up
Your fall clean up service may include the following lawn care services depending on your request.
leaf clean up, removal, and disposal
Picking up branches and lawn debris
Cut down of plants including perennials
Mowing the lawn
Flower bed maintenance and cultivation
Pruning and trimming
Core aeration, overseeding, and winterizer
Affordable Lawn Care Services in Burr Ridge, IL
With more than 10 years of working professionally with clients in the Darien, Westmont, Palisades, and Woodridge areas, we have accumulated a tremendous amount of experience, knowledge, and expertise in the field of grounds maintenance, lawn maintenance, landscaping, and lawn care services.
Over the years we have kept our prices relatively affordable and very few necessary price increases have occurred in order to keep our employees happy and our mowing equipment, landscaping tools, and trucks in excellent condition.
We Are a Local Burr Ridge Lawn Care Company
Being local means we already serve customers in the Burr Ridge area and surrounding towns. With hundreds of satisfied customers in the Darien, Westmont, and Woodridge areas you can count with Sanchez Burr Ridge Lawn Care Services to improve your outdoor living spaces and not only increase property value but to enjoy your outdoor landscape areas all year long.
Other areas we serve around Burr Ridge, IL:
Woodridge Lawn Care Services
Lemont Lawn care Services
Lockport Lawn Care Services
Contact us today to get your affordable lawn service or landscaping quote and start enjoying your outdoor spaces while improving property value.